Christian Paul Kirksey is an American football linebacker for the Green Bay Packers of the National Football League. He is known to an outstanding player on the field. Christian, just like other footballers has got multiple tattoos on his body. Most of them denote his love for his parents. Let us see his tattoos, together.
1. Angel Wings Tattoo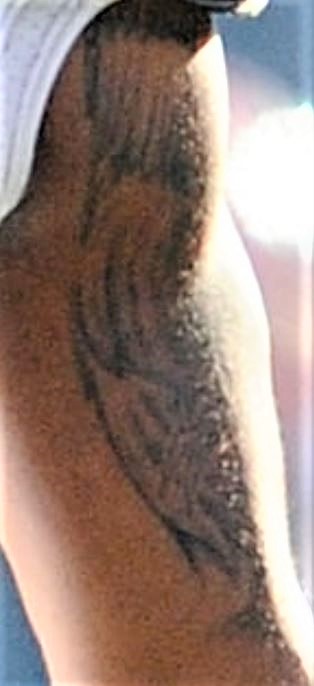 Tattoo: On Christian's left shoulder and bicep there us a tattoo of angel wings inked.
Meaning: Angel wings symbolize Christians' relationship with God and he wishes to be closest to him since, angel and angel wings are symbols of good luck. They are considered to be the emblems of hope, faith, and protection.
2. 'Father's Portrait' Tattoo
Tattoo: Christian right bicep is covered with the portrait of his father, Elmer Kirksey.
Meaning: Christian's father passed away when he was just 17 years old. He used to share a very close relationship with Sr. Kirksey. This tattoo is his Christian's tribute to his father and also a memoir for himself to see his dad's picture and motivate himself to keep going in his life.
"My dad, Elmer Kirksey Sr., passed when I was 17. I got this tattoo I went to Iowa for college, it was the summer of my freshman year. Just getting a tattoo of my dad means a lot. He helped me through life growing up as a man. For me to have him leave me when I'm 17, going through manhood, things like that, I cherish the moments that I was with him."

"In College, I used to wear a sleeve on my right arm during games, my friend would tell me, 'Hey bro, don't cover your dad's face. You got that tattoo. He's there for a reason."

So now, I wear sleeve on my left arm and look down easily on my dad and Ill kiss to acknowledge him before every game.
3. 'Faith' Tattoo
Tattoo: On his inner forearm, there is a tattoo of the word, 'Faith'.
Meaning: This tattoo is totally justified on the basis of Christian's beliefs of being strong and having complete faith in God and God's will. Christain is a very religious person and he says that he has complete faith in Dad's lessons and preachings and that is why he has reached this level of his life.
4. 'Flying Eagle' Tattoo
Tattoo: On his right bicep we can see eagle inked in a flying position.
Meaning: Besides being used as the symbol of masculine strength, Eagle is considered to be the symbol of reflecting courage, determination, and power.
5. 'Mother's Name, Portrait, Rose' Tattoo
Tattoo: Christian's left bicep is inked with multiple tattoos which are the tribute of his love to his mother, Patrice Kirksey. The name of his mother is inked in the middle of the cross. We can see the portrait of his mother towards the left side of the cross. And, there is a red rose tattoo inked on the top of the cross tattoo.
Meaning: Christian always shared a unique bond with his mother, she took great care of him after his father's death as he was mere 17 years old when his father died of heart stroke. Cross with a rose is the symbol of resurrection and renewal of life. His mother's name and the portrait show how lovable his relation with his mother has been.
6. 'Tribal Sun' Tattoo
Tattoo: On the outer side of his right bicep there's tribal sun inked.
Meaning: The tribal sun tattoo is meant to showcase the relationship between life and the sun. It is used a the symbol of leadership, healing, creativity, and light.
7. 'Praying Hands' Tattoo
Tattoo: On the right side of his father's portrait we can see a pair of praying hands inked.
Meaning: Praying hands have religious relevance. It represents the person's will to seek the continuous blessings of God. Also, praying hands are the way of showing respect and greeting, 'Thank You'.
8. 'Bible Verse' Tattoo
Tattoo: Under his eagle tattoo there are few lines inked. The lines have been taken from Isaiah 40:35 KJV which says, Be Strong and of a Good Courage; be not afraid, neither be thou dismayed: for the LORD thy God is with thee whithersoever thou goest."!! This is another source of encouragement for himself, to remember that difficulties are part of life and we need to be strong.
9. Right Arm Inscription Tattoo
Tattoo: Christian's right forearm is inked with a huge inscription that actually shows David and Goliath.
 Meaning: During is childhood, Christian's mother used to tell him the story of David and Goliath. The story has been made on the moral lesson of courage, trust, and faith. It forms an important part of biblical references too. The story focused on Goliath who was considered too big and huge to fight and no one dared to attack him, however, when David was sent on the field he used his intelligence and took a stone wrapped in a rope and swung high thus, reaching at the height of nine feet where it hit Goliath's head and he fell down.
"I say, that's been my story my whole life, the underdog, always too small for this, too small for that and for me to be able to be the tiny man in Madden — and that's never happened in the history of the video game — still out there making plays on the field and little kids hitting me up on social media like, hey, man, you were the tiny Titan, this and that, I just feel like it drew everything together."
10. The pattern on the Right Arm 

11. 'Clock and Rose' Tattoo
Tattoo: On Christian's left forearm there is a huge clock inked which is surrounded by roses on the top and its sides.
Meaning: A clock with roses is used to symbolize the forever love. Since roses are the symbol of love and romance, the clock displaying a special time may be inked along with roses to mark some special memory related to a loved one, forever on your body.
12. 'Wisdom' Tattoo
Tattoo: On Christian's right forearm there is a word, 'Wisdom' inked. The tattoo is inked just under the portrait of his father.
Meaning: Christain shared a very close bond with his father. He claims that his father taught him a lot of wisdom, and all that he is today he owes it all to his dad because it is all because of his teachings. He also said that he decided to put up this tattoo and his father's portrait on his right bicep so that he can easily lift his arm and kiss his dad and remember him during all the difficult times of his life. This reminds him of his father's teachings and he gets motivated.
"He taught me wisdom, how to grow up and become a man to make me into the person I am today. I put it on my bicep because it is easy to see, so whenever I am going through something, trials and tribulation or hard time, it just reminds me of my upbringing with my dad."