It is difficult to settle on the perfect tattoo design. You should probably pick one that speaks to you, as it will stay with you for the rest of your life. It may be a tiny piece relating to your star sign or the silhouette of your favorite flower, or it could be a delicate, thin-lined tattoo to remind you to take care of yourself. A tattoo might not be the best way to memorialize your favorite meal, but if thinking about it brings back good times, why not?
Meaning of Food Tattoo Designs
Although temporary food tattoos may seem like an odd kind of body art, there is more to the practice than meets the eye for some people. It may be a tribute to all the late-night coffee dates with your pals, your first date meal, or a comforting treat from back home. All it takes is for you to think that food is adorable. It's still a cool piece of ink to stamp on your flesh for any cause you choose.
The nicest aspect about getting a tattoo depicting food is the variety of options available to you. Therefore, there is no scarcity of material related to this topic. Motifs for tattoos can be inspired by anything from the most unusual culinary creation to the most every day of possessions. Despite the widespread interest in all things culinary, cruciferous vegetables like Brussel sprouts, broccoli, and the universally reviled spinach have failed to catch on in any form, not even as tattoos.
Ideas For Food Tattoo Designs
Fruits and vegetables are popular options when it comes to getting tattoos of food. As there is a shift in the lifestyle of people toward healthy eating, these tattoos have found themselves a niche in the artistic world and doing really well.
Pizza remains an all-time favorite for the people who eat as well as for the people who get it inked. There is so much that you can do with just a pizza slice tattoo to make it unique. So, the pizza tattoos are here to stay.
This Japanese dish has taken the world by storm. It has become the staple food for many people around the world, especially Americans. So, it is only natural that the number of people getting sushi tattoos is also growing.
Another all-time favorite category of food deserts. From cakes to cupcakes, to chocolates and candies, these are loved by all. Hence, they remain a popular choice for people who want to get inked.
Where Should You Get Food Tattoo Designs
For Women
Ankle
Wrist
Finger Spaces
Hands
Shoulder Blades
Behind the Ears
For Men
Chest
Biceps
Legs
Neck
Back
Forearms
List of Food Tattoo Designs & Meanings
Bird on Burger Food Tattoo Design on Arm
The ultimate tattoo for the junk food addict: a delicious image of their vice. Beautifully depicting a cheesy burger, this cuff brings a sense of vitality to the wearer's hands. The bird on the burger is quite a vibrant addition.
Turnip Tattoo Design on Back
If you love a specific vegetable, then like this wearer even you can get it inked. Just sit with the artist and work on an aesthetic design that will look good on your back and you're good to go.
   Pizza Tattoo Design on Body
Just seeing cheese dripping pizza slices is enough to make your mouth water. Given the location of the tattoo, which complements the tattoo's aesthetic, the food tattoo seen below appears both delicious and cool.
Cupcake  Tattoo Design on  Foot
The ice cream cube and the well-scattered flowers on the foot make a lovely mix of color and theme in the food tattoo seen above. Since there is no "correct" location on which to display a food tattoo, the onus is on the user to come up with an arrangement that effectively conveys his ideas.
Cute Taco Tattoo Design on Arm
Not all food tattoos need to be taken seriously. Adding a face to the design, like in this cheerful taco, makes it more comical and whimsical. It's the sweetest thing ever and a wonderful topic of discussion!
Peach Tattoo Design on Ankle
A peach tattoo is a subtle representation of the quirky personality of the wearer. They look super adorable when placed on the wrist or ankle. The wearer dawns a peach from which a bite has already been taken and it looks super cute.
Shin Ramen Tattoo Design on Arm
Shin ramen is irresistible due to its silky, chewy noodles and subtle yet noticeable spicy undertones. This tattoo of a dish perfectly represents its flavor. The lifelike appearance and appetizing color scheme are both due to the careful attention paid to the noodles and their presentation. This tattoo is guaranteed to make any ramen fan drool.
Pineapple Tattoo Design on Body
Ink in the shape of pineapple is totally hot. Ink a small, simple black-and-white design or a colorful elaborate design like the wearer anywhere on your body. Either way, it's going to be stunning!
Carrots and Peas Tattoo Design on Elbow
Have no idea what kinds of vegetables to buy? Peas and carrots are best eaten together; if you forget this, just look at your arm. So, next time when you're confused about what groceries to buy, you'll always have a reminder.
Spaghetti Meatball Food Tattoo Design on Leg
Spaghetti tattoos are fairly common as who doesn't love spaghetti right? This spaghetti meatball tattoo is a great way to express your love for the food. This tattoo incorporates a variety of food items skillfully mixed with attractive details to create a design that can be paired with a variety of styles.
MacDonald's Logo Tattoo Design on Back
Every tattoo is unique, as are the reasons its wearer got it. When someone gets a tattoo, they're sending a message to both the people who see it and the person who got it. Each tattoo bearer has his own story to tell about why and how he got his ink, and only he may decide what interpretation is most appropriate. This McDonald's tattoo represents the wearer's love for the food chain.
Corn Tattoo Design on Arm
Corn, especially white and black, is another staple of food-themed tattoos. Having this food tattoo on your body can be taken as a symbol of your appreciation for the many ways in which maize is useful to us.
Tiny Ramen Bowl Food Tattoo Design on Bicep
It's never a terrible idea to commemorate your go-to comfort food with a tattoo. This illustration is detailed without being overbearing because of its crisp linework and restrained use of shading. For added impact, have yours rendered in full color.
Grapes Tattoo Design on Body
There is a vast variety of options when it comes to the design of a food tattoo, each with its own unique style and flair. Below is a superb example of a food tattoo, with well-detailed designs for the fruit's leaves and an attractive presentation of the fruit itself.
Bananas Tattoo Design on Thigh
Bananas, in most contexts, stand for the truth that one should not trust first impressions. Because of this, it's reasonable to assume that a person with a banana tattoo doesn't believe that others are who they claim to be on the outside.
Checkers Rally's Fries Tattoo Design on Legs
Simply taking a peek at the french fries makes us extremely hungry. The tattoo seen above is a wonderful statement to make to fellow fast food enthusiasts and may be interpreted as a symbol of the wearer's intense love for french fries.
Adorable Avacado Tattoo Design on Forearm
A healthy lifestyle, as shown by the avocado tattoo, is no surprise to anyone who is familiar with the many health advantages associated with eating avocados. With the avocado tattoo, you may show the world that a healthy diet is vital to you and that you take joy in it.
Knife on Garlic Tattoo Design on Sleeve
A food tattoo can be made in a wide variety of styles, and it can be altered to suit the preferences of the person who will be wearing it. The all-important knife and garlic cloves for chopping are depicted here. The brilliant appearance is a result of the excellent use of color and arrangement of design elements.
Hot Coffee Tattoo Design on Wrist
The most well-liked beverages to be served hot. Ink a steaming mug of tea or coffee onto your index finger or wrist. Show off your devotion to tea and coffee with a fun temporary tattoo design.
Block of Cheese Tattoo Design on Wrist
Cheese tattoos are a declaration of your appreciation for the elevated, indulgent way of life. Living a cheesy existence is a metaphor for giving in to all of one's wants and needs. It's a way of life that lots of people aspire to, but can't actually pursue.
Juicy lollipop Tattoo Design on Arm
Tattoos of your favorite dessert are a cute detail. One option is to have it done using very fine lines to maintain the appearance of minimalism.
Traditional Taco Tattoo Design on Elbow
Tacos are not only delicious but also make for a fantastic tattoo subject. That's why most people have it permanently tattooed on their forearms. You can even put sunglasses on your tacos or eyes that wink if you like.
Colorful Mushroom Tattoo Design on Calf
From what we can see, the mushroom tattoo may be designed for any portion of the body and yet look shocking. The architect in this fungi is perched on the mushroom's legs, and the creature's dazzling array of hues gives the whole thing an extra dose of visual appeal.
Baked Sweets Tattoo Design on Wrist
Having your favorite dessert rendered in the most basic form is one of the surest ways to guarantee its irresistible attractiveness. To provide the impression of freshly baked pastries, this uses a color and shading scheme that is almost identical. You can't go wrong with this ink if you're looking for something understated yet striking.
Asparagus Bunch Tattoo Design on Bicep
You can tell how much this person loves vegetables by looking at their tattoo. The asparagus bunch tattooed on the arm above is detailed and attractive. The placement of the tattoo, taking into account the wearer's skin tone, greatly improves the food tattoo's overall aesthetic.
Blue Macaroon Tattoo Design on Leg
Tattoos of macarons are commonly associated with feminine qualities like softness, sweetness, and whimsy. Choose one of the numerous delicate flower patterns or the classic Japanese theme in which the macaron's ruffled edge mirrors the interior frame for a beautiful permanent reminder of femininity.
Cute Cherries Tattoo Design on Forearm
For women, cherry tattoos are a classic design. An innocent-looking cherry actually has fertility-related symbolism. The vibrant red color and juicy texture of cherry are symbolic of a woman's regenerative abilities. The volume and color of a woman's lips are often cited as an inspiration for this trend.
Delicious Pancakes Tattoo Design on Body
You might get free pancakes at your local cafe if you got this tattoo. Pancakes are the perfect breakfast and surprisingly a great desert. So, you should definitely get this one.
Pickle Jar Tattoo Design on Ankle
The opinions of the general public about pickles tend to be somewhat polarised.  Some people have such a strong preference for pickles that they will resort to throwing elbows if you try to take one off their plate. Then there are the individuals occupying this space; they push the envelope to new heights. Their tattoos will ensure that their pickle obsession will be known long after they are gone and here's one we'd like to give them a big pat on the back for the efforts.
Milkshake  Tattoo Design on Wrist
For all you milk tea fans out there here's a simple and straightforward tattoo design. There's also the option of having it match the color of the beverage if that strikes your fancy.
Juicy Kiwi Tattoo Design on Leg
Due to its delicious flavor, it is a popular choice among consumers all around the globe. Therefore, those who adore eating kiwis often get tattoos of the fruit to demonstrate their passion for it. Getting a tattoo of a kiwi fruit might be an excellent starting point for anyone looking to branch out into the world of fruit tattoos. This kiwi tattoo can be made more interesting by incorporating other elements.
Tempting Hotdog Tattoo Design on Shoulder
It's hard to believe that the hot dog tattooed above isn't an actual part of the body. The size of the area where it is worn also contributes to the overall aesthetic success of the food tattoo design. Considering where it is worn and the various interpretations that may be made, the tattoo below is a terrific expression of confidence.
Fork and Spaghetti Tattoo Design on Bicep
Who doesn't love a well-made spaghetti? In addition to conveying a love of pasta, this tattoo also demonstrates expert twirling form.
Pork Meat Tattoo Design on Forearm
This is a stunning tattoo design for the hands, outlining each step of the meal's preparation. The tattoo depicts a pig being butchered with a knife to create a variety of delectable dishes, and the resulting meat is then grilled over open flames so that the wearer can enjoy it.
Adorable Cupcake Tattoo Design on Body
One who has a deep and abiding passion for food will also be unable to resist the irresistible appeal of delicious cupcakes. To emphasize its already wonderful appearance, the cherry on top of this cupcake ice cream is shown to be very ripe. Imagination and creativity allow the bearer to make his food tattoo seem exactly how he wants it to.
MacDonald's Fries Tattoo Design on Ankle
Try something a little bit offbeat, like having your favorite finger chips engraved on your ankle. And if you wish, you can also get an McD burger imprinted on your other ankle.
Yummy Fries Tattoo Design on Forearm
Really, who doesn't like fries? Get a tattoo of your favorite kind to serve as a constant reminder, or use the three-part design above as a jumping-off point for your own unique take on the french fry art form. It's a great option if you want something a little more lighthearted.
Traditional Tea Tattoo Design on Finger
Drinking tea is a universal practice, as evidenced by the food tattoo above, which has a detailed illustration of a kettle being used to brew the beverage. The tattoo's design and color palette are both excellent, and they work together to create an attractive finger design.
Donut and Coffee Tattoo Design on Ankle
If donuts and coffee are your comfort food, then this tattoo is for you. The wearer flaunts this adorable tattoo on the ankle and has added a face to the donut. The wearer has also added the heart to symbolize how they she loves it.
True Love Burger Tattoo Design on Body
Burgers 
have 
become 
a 
cultural 
icon 
of 
American 
food 
and 
are 
loved 
by 
many.
However, 
the 
world 
at 
large 
has 
warmed 
up 
to 
this 
tasty 
treat, 
and 
real 
hamburger 
fans 
not 
only 
eat 
them
but 
also 
sport 
a 
tattoo 
to 
show 
their 
devotion. This wearer clearly has a burger as his one" true love". 
Cookie Dough Ice cream Tattoo Design on Body
Regardless of what other people say, it's wonderful to be able to express yourself via something you love. This food tattoo is the ultimate expression of love for the cupcake and cookie. The tattoo's attention to detail and skillful blending of aesthetic elements make the food look delicious and the design is pleasing to the eye.
Infinity Bacon Tattoo Design on Wrist
This indelible symbol of our eternal devotion to the bacon breakfast classic. Infinity symbolizes "always", So, if you love bacon forever and always, then you should definitely express your love through this tattoo.
Beer and Meat Tattoo Design on Bicep
A tattoo is a fantastic visual expression of your passions and ideas. A cute little animal holding a beer bottle suggests the wearer enjoys alcoholic beverages and is partial to meat products from animals. The design of the food tattoo sleeve is both creative and practical, and it gives the arms a unique appearance to the recipient.
Adorable Mushroom Tattoo Design on Shoulder
This tattoo on the wearer's shoulders represents the enlightenment that the mushroom can bring to one's life and spirit. The design seems more stunning thanks to the vibrant color palette and the intricate details of the little flowers and leaves.
Grilled Cheese Sandwich Tattoo Design on Body
A grilled cheese sandwich is a go-to breakfast or a snack to many. So, if you're as possessive about your sandwich as this wearer, then you must get it etched on your skin for a lifetime.
Floral Strawberry Tattoo Design on Ankle
Strawberries have a lovely appearance. If you love strawberries then you must have it permanently imprinted on your body. Ink this adorable little pattern on your skin, and it'll stand out among all the other food tattoos you've seen.
Chicken leg Tattoo Design on Forearm
For the meat-eaters among us. You should get a tattoo of a chicken leg on your arm or ear. This one satisfies your love for chicken and keeps reminding you to consume your protein.
Cocktail Tattoo Design on Leg
A stylish option for your next design is to draw inspiration from your favorite drink. Though this ink comes with the shading already applied, if you'd like something with a more muted effect, you can always just ask the artist for line art instead.
I Love Sushi Tattoo Design on Body
The sushi tattoo designs below will bring forth new associations with this delicious cuisine. Because of its placement, this sushi tattoo looks as delicious as it does spectacularly.
A Pair of Lemon Tattoo Designs on Arm
If you want to wow people, have a lime tattooed on your ankle or Arm. In addition, you can have leaves and a lime cut in half etched on it or even add flowers.
Mixer Tattoo Design on leg
Ink inspired by culinary delights can feature a wide range of ingredients and preparation methods. The stand mixer sign of food tattooed below is a nice visual reminder of the mixer's purpose and could be seen as a declaration of affection for the mixer because of the delicious meals it helps create. The below food tattoo design is skillfully executed, using a pleasing palette.
Outlined Fruits Tattoo Design on Arm
A basic outline of your favorite fruits is a great alternative to colorful tattoos. Fruits are an excellent reminder of eating healthy. Consuming a lot of fruits will also help you remain hydrated and they even make a great tattoo.
Wrap and Taco Tattoo Design on Calf
The food-themed tattoo on the calf is beautifully executed, and the variety of colors gives it a striking appearance. A tiny pink heart with photographs of the wearer's preferred vegetables wrapped in attractive wrappers is created.
Happy Fruits Tattoo Design on Forearm
You can get a tattoo of a single outline of fruit like this on your arms, neck, back, or legs. If you love fruits and want a tattoo that can reflect that, here's a design you can use.
Floral Sushi Tattoo Design on Ankle
Foodies and cooks should surely consider a sushi tattoo. It's a visual representation of the effort and imagination that went into making the food. The decision is simple for those interested in Japanese culture. The combination of white rice, orange fish, green vegetables, etc., in a sushi roll, creates a visually arresting and enduring work of art.
Garlic Tattoo Design on Body
The garlic tattoo is a year-round portal into spiritual sustenance, providing a taste of home and the comforting warmth of the fireplace whenever you need it. Garlic is a symbol of protection. So, if you want to keep the negative energy away, then you may consider a garlic tattoo.
Sweet Cupcake Tattoo Design on Arm
There's a good reason why cupcakes are so common. This is a very pleasing design visually. The topping can be adjusted to suit your preferences. With such a tiny serving, you may enjoy a cupcake without feeling bad about it.
Coffee Love Tattoo Design on Elbow
This pattern could be ideal for your next tattoo if you drink coffee on a daily basis. This tattoo's simple outline looks great after it's applied to the skin. The addition of the heart makes the design seem more feminine.
Fish and Sushi Tattoo Design on Body
Various elements and foods have been tattooed together to create a truly eclectic food tattoo. The tattoo below is a cuisine design that uses bright colors to draw attention. The person with the food tattoo is usually the one to explain its significance. This one is for sushi lovers.
Stay Chill Ice Cream Tattoo Design on Arm
We all scream for ICE CREAM. Ice cream tattoos look really cool. All you have to do is imagine how you want your ice cream to be served and you have your design. This wearer has tattooed ice cream served in a cone with the reminder to stay chill in all situations.
Floral Garlic Tattoo Design on Body
Many people who want to have a food tattoo do so because they enjoy having a permanent reminder of the meals they love. The below tattoo is symbolic of the wearer's fondness for garlic. The flower also looks very attractive.
Root Veggies Tattoo Design on Ankles
Walking barefoot across a field of root vegetables with these tattoos is the best way to honor Mother Nature. This tattoo is simple yet cute. If you're looking for small and simple tattoos, then here is your pick.
An Apple a day Tattoo Design on Ear
Even though you don't need much of any one kind of food to survive, you may find it tough to go without your many favorite kinds. Finger-drawn designs for such goods make it simple to broadcast one's food preferences.
Halloween Pumpkin Tattoo Design on Wrist
Despite your general dislike for pumpkins, you find yourself drawn to this tattoo. A charming grey-toned black pumpkin. Could be used for a tattoo. You should get the little version.
A pair of Cherries Tattoo Design on Ribs
A cherry tattoo is a sign of chastity, virginity, and fruitfulness. Cherry is a beautiful and often significant color for tattoos. Since cherries are naturally red, red ink is frequently the finest choice for a cherry tattoo. A cherry tattoo can be made darker by adding black ink, or it can be made more symbolic by combining it with another color, such as blue, which stands for innocence.
The Vegetable Jungle Tattoo Design on Legs
You can see how great it is to celebrate vegetables in the food tattoo that is above. It's a symbol of one's strong preference for vegetables if one has this tattoo and will also serve as a reminder to keep eating healthy.
Favorite Food Tattoo Design on Fingers
Even though you don't need much of any one kind of food to survive, you may find it tough to go without your many favorite kinds. Finger-drawn designs for such goods make it simple to broadcast one's food preferences.
Emoticon Pizza Tattoo Design on Forearm
Creating your own unique pizza tattoo is a fun way to express your individuality. You have the freedom to choose between black and colored typefaces, as well as customize the look with additional features and touches.
Sushi Sumpremacy Tattoo Design on Body
Just like getting a tattoo, making sushi is a creative process. This recipe is both simple and vibrant thanks to the contrasting textures and colors of cooked rice, fish, and veggies. That class works beautifully in print. From its inception in Southeast Asia to its perfection in Japan to its absorption into worldwide cuisine, sushi has pleased people for millennia.
Cuttlery and Cupcake Tattoo Design on Arm
Cupcakes, being an extravagant food item, are often seen as something only ladies would like. Cupcake tattoos are commonly used by women to express aspects of their character, such as a penchant for vivaciousness, sweetness, or cuteness.
Leafy Veggies Tattoo Design on Body
Some people get tattoos of the meals they adore; others get them of the ingredients they use most often in the kitchen because they feel a strong connection to those flavors. The below food tattoo could be interpreted to suggest the wearer enjoys cooking and finds comfort in the inclusion of a veggies sign.
Chocolate Bar Tattoo Design on Arm
Be it a man or woman, a child or an adult, chocolates are everyone's favorite. They can bring a smile to anyone's face. If you're looking to satiate a sweet tooth, this ink will do the trick, but you might want to eat a little more of the chocolate bar.
Vegan Tattoo Design on Body
These past several years have seen a worldwide explosion in the popularity of vegan tattoos. Because being vegan is now a way of life for many people, it stands to reason that they will also alter other aspects of their lives to be consistent with their values. This tattoo serves as a reminder of staying clean of animal products.
The Cool Slice Tattoo Design on Arm
Without a doubt, it can be said that Pizza tattoos are super popular. Put some thought into your food tattoo; maybe you want a pizza on your forearm with a pair of sunglasses on top.This tattoo makes the slice look super cool.
Ramen Love Tattoo Design on Ribs
If your affection for Chinese cuisine is not a secret, then you should proudly display it. Take a fork and tattoo some noodles on your body.
Bread and Butter Tattoo Design on Body
Now that we have that settled, let us say that bread is essential to survival. It is one of the easiest recipes out there to bake bread. Butter and bread go hand in hand and no wonder is a popular choice for tattoos.
Vintage Coca-Cola Tattoo Design on Arm
Why not get a tattoo of a bottle of Coke if it brings back fond memories of times spent with good friends? Featuring realistic 3D effects, this design is a faithful recreation of a traditional carbonated beverage. Furthermore, it's a fantastic suggestion for couples who want to get matching tattoos but want something different.
Dumpling Tattoo Design on Thigh
A tattoo of an illustrated dumpling can surprise you with its beauty. Whether you get it tattooed on your arm or rib, you'll look cool and feel hungry at the same time.
A pair of Carrots Tattoo Design on the Arm
Here is a food tattoo design with crisp carrots, skillfully rendered in a pleasing palette. A person on a diet or trying to eat more vegetables might utilize the tattoo as a visual reminder that looks great on their arm.
Love Vegan Tattoo Design on Leg
This tattoo can be considered by vegans as well. Since veganism is gaining a lot of popularity all over the world. This tattoo would be an apt representation of your choice of lifestyle.
The Murder of Pizza Slice Tattoo Design on Leg
Many people's perceptions of tattoos change when they see food images. The tattoo of a pizza above not only looks great but also makes fast food fans hungry for a slice. The size of the area where the tattoo of the food design has been applied is adequate, allowing the tattoo as a whole to look fantastic.
Streetstyle Hotdog Tattoo Design on Body
A tattoo of a hot dog is another excellent choice. Get a hot dog etched on your hand if you want to show the world your undying devotion to this delicious snack.
Noodle Bowl Tattoo Design on Leg
Noodle bowls are the go-to food for most people. If it is yours too, then this tattoo is an ideal way of telling the world how much you love noodles.
Traditional Mexican Taco Tattoo Design on Body
Taco tattoos remain popular throughout the world. Talking about taco designs, it's how you like your taco. Some people get small and cute tacos on their wrists or ankles. Or like the wearer of this tattoo who chose a long elaborate style for his taco and has added the Mexican hat.
Eggs have more of an impact than you might think. They can be found in a wide variety of dishes, including sweets, savory dishes, sauces, and even hair products. The limits to which they will go are genuinely infinite. Daily egg consumption is common amongst the general population. Because of this, the popularity of egg tattoos shouldn't be shocking.
Dripping Cheese Pizza Tattoo Design on Wrist
Pizza will always be available. You can always count on the ooey-gooey comfort of this treat to help you get through a rough patch. Having a lasting reminder of your devotion to this delicious treat is the best method to express your feelings about it.
Metaphoric Knife Tattoo Design on Wrist
As important as it is to appreciate the foods that we eat, some people, mostly cooks and chefs also give importance to the cutlery that they use. This wearer flaunts a colorful knife tattoo. The details on the knife tattoo consist of various food items the knife has cut.
Onion and Garlic Tattoo Design on Foot
Tattoos honoring the cutlery, seasonings, and foods themselves are also popular. Getting a tattoo like the one seen here is a great way to show your appreciation for a particular dish or ingredient, and it can convey multiple meanings depending on the item being honored.
" Very Berry" Strawberry Tattoo Design on Forearm
Ink depicting a little cluster of berries is a tasteful and refined option. In order to make your ink look as succulent and ripe as the actual thing, it's best to request full color. You can further personalize it by including more fruit components.
Monochromatic Fork and Dumpling Tattoo Design on Arm
Appropriate usage of cutlery is a wonderful expression of gratitude for those goods and the purpose for which we employ them. The tattoo of food below is a work of art, in monochrome that complements each other and the design.
Popcorn Lover Tattoo Design on Arm
If a tub of popcorn is your favorite snack, then have one permanently imprinted on you. A wonderful memento of memorable experiences with loved ones.
Pear Tattoo Design on Hand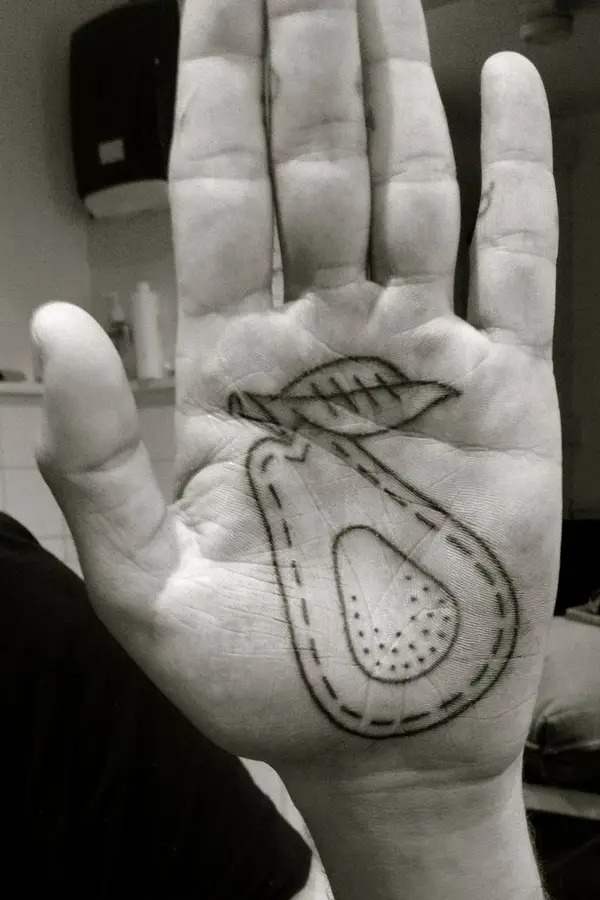 The pear tattoo is one of the earliest designs still in use today. Its origins can be traced to a wide variety of cultures, although its most common application was in the medical field. Medical practitioners have noted its soothing and muscle-strengthening effects. Depending on the custom or culture, a pear tattoo can represent a variety of ideas, including femininity, fertility, rebirth, and abundance.
Full Vegan Sleeve Tattoo Design on Sleeves
Well, if you love a colorful food tattoo, then this is what you should go for. The wearer has covered both the sleeves in vibrant and dark colors of different fruits and vegetables.
As(sorted) Vegetable Tattoo Design on Shoulder
This tattoo is an assortment of probably the wearer's favorite veggies. The design is pretty simple as the wearer has placed tiny tattoos of the vegetables across her shoulder and upper arm. If you want a big tattoo but don't want it to be too crowded, then you can opt for something like this.
Pomegranate Tattoo Design on Hand
Tattoo designs with pomegranates are striking in appearance, original in style, and loaded with meaning. It's not a tattoo that most people seek after. There's a lot of significance to be found in this fruit.
Attractive Watermelon Tattoo Design on Body
People get watermelon tattoos for a variety of reasons. Some people use it to celebrate the summer season or as a sign of the season, they enjoy the most. Some people use them to reminisce about the simpler times they experienced when they were younger. Some people may have grown up in a climate where watermelons are abundant and consider this fruit indispensable.
Candyland Tattoo Design on Body
Tattoos that look like candies are awesome and cute. They are a delightfully irreverent approach to celebrating long-lost artwork. Candy tattoos come in a dizzying array of flavors and shapes, from Gobstoppers and Skittles to Nerds and Airheads.
Breakfast Bowl Tattoo Design on Forearm
The favorite meal of most people is the first meal of the day and that is their breakfast. Well, some love it more than the others enough to get it etched on their body with permanent ink. The wearer belongs to the latter and has inked the bowl of a hearty breakfast on his arm.
Artichoke Tattoo Design on Arm
The mature globe artichoke is a rather unusual-looking plant. The core, however, is visible once the outer leaves are removed. If you're also looking for an unusual tattoo, then this will be a good choice.
Vibrant Turnip Tattoo Design on Body
If you find that attractive vegetable so appealing that you want it permanently inscribed on your body, you can do it in full color, complete with green leaves. The wearer has chosen a bunch of turnips which are held as the hand is clearly visible.
Here, then, is a collection of the 100 best tattoos based on edible items. Any of these designs is suitable for tattooing. Where you put the important food tattoo is entirely up to you. The arm, forearm, near the ear, nape, neck, leg, thigh, ankle, rib, etc. are all great places to get a food tattoo etched. The permanent beauty of food tattoos is undeniable.