Justin Bieber, the well-known Canadian singer as well as songwriter actually began recording his demo tapes just when he got thirteen. And then came his body inks. Bieber has been a tattoo freak, for just at the age of twenty-one, Bieber is one tatted-up man. He has got as many as forty tattoos on his body. He acknowledges his full sleeve and his half sleeve both as one tattoo. Check out below about them.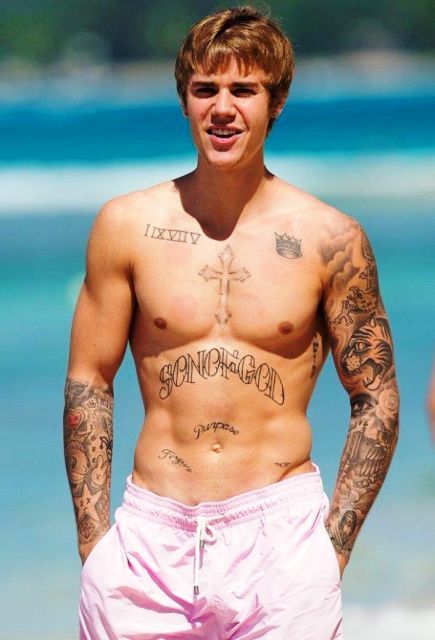 1. Bird Hip Tattoo

Justin Bieber has got a tattoo of a small bird, also known as a seagull in flight position on his left hip as his first tattoo. This tattoo symbolizes the seagull from the fable "Jonathan Livingston Seagull." This tattoo has been a family custom of Bieber, and so most of the members have got this ink on their bodies. Bieber's hip tattoo was inked in Toronto back in March 2010, and it was his sixteenth birthday. We can consider it a kind of ceremonial obligation and thus it represents learning to "fly" and learning about modus operandi of life as a process.
2. Ribcage Tattoo
Sliding vertically down, Bieber has got another ink on his rib cage just below his left armpit. The tattoo reads "Yeshua," which translates to "Jesus" in Hebrew. Justin Bieber's rib cage Hebrew tattoo is similar to the Hebrew tattoo of his dad, Jeremy Bieber. Both of them got it inked at the same time in April 2011 during Bieber's "My World" tour in Israel. Bieber is seen finding awakening in reciting Hebrew prayers before performing on stage.
3. Left Leg Tattoo
Justin Bieber, on his left leg, has got "Jesus" ink. This sacred tattoo comprises of a picture of Jesus along with a crown of thorns and halo above his head. Such tattoos depict one's religious faith and hope. Indeed, Bieber is a God-fearing guy!
4. Folded Hands
Justin Bieber has got a tattoo of a pair of praying hands inked on his left leg, thereby reflecting his spiritual side. Justin Bieber's praying hands tattoo is inked in black and white on his calf. This tattoo is right below the tattoo of Jesus, Bieber got inked before. Praying hands symbolize one's faith in Almighty. It also shows the power of communing with God for you are grateful.
5. On the Left Arm
Justin Bieber has got his arm inked too. It reads, Believe." This tattoo was inspired by his one of the album, titled "Believe." This is inked on the inside of his left arm, near his elbow. Believe, otherwise is a very positive word, used as an inspiration.
6. Chinese Ink
Justin Bieber, after getting "Believe" tattoo got another ink, just below it. It is a Chinese character tattoo that translates to mean 'follow heart'. It also means weak and incompetent.
7. Chest Crown
It was back in 2012 when Justin Bieber got his crown tattoo inked on his chest. A crown, in generally represents renowned majesty. Usually worn by a royal family, it is obvious that it is symbolic of might, sophistication, wealth, and domination.
8. Arm Owl Tattoo
Justin Bieber's eighth tattoo is a large black and white owl inked on his left forearm. The owl tattoo is kinda wheels within wheels yet an amazing work of design, which attracts the masses' eye. The owl tattoo usually symbolizes a link between education and wisdom. The Native Americans had the faith that the owl to be the benefactor of pious knowledge, therefore regarded it as a symbol of intelligence.
9. Rose Tattoo
Justin Bieber's tattoos also have a bunch of roses filled in black and white. It is positioned below and to the side of the praying hands. Rose, as per the tarot study, is considered a way of equalization and balance. The charming glamour of a rose speaks of commitment, good faith, hope, and a fresh start. It is actually in conflict with thorns which mean defense, grief, loss, and thoughtlessness. A yellow rose typically symbolizes liveliness, joy and friendship signal. However, the red rose is used to describe a mature blooming love affair.
10. Hockey Tattoo

This shoulder tattoo on Justin Bieber's back is a testimony to his late grandfather, to whom which he was very close. Also, he drew some patronage from Canadian hockey team known as the Stratford Culliton. We are apprehensive that the singer and his "grandpa" used to watch together the team play every Friday night, and now Justin Bieber has got an ink permanent that would remind him of the same.
11. Roman Numeral Tattoo

Justin Bieber's love for his mom is immense. This tattoo, inked in Roman numerals, which he got back in 2013, was extended to his lovely mother, Patricia Mallette.  This tattoo is just below his right collarbone on the front part of his shoulder, and the ink represents his mother's birth year, which is 1975. His tattoos are pretty significant.
12. Forearm Christ Symbol
Justin has been a religious brat. He has dedicated yet another part of his body to his religious connotation by getting a large Greek symbol for Christ inked on his left forearm. This tattoo is located right next to his nefarious owl tattoo. This so-called "X" tattoo has been inked in London.
13. Koi Fish
Justin Bieber has got a koi fish tattoo on his arm. Koi is actually a Japanese meaning for Carp. It is a symbol used to overcome obstacles.
14. Tiger Tattoo
Justin Bieber has got a barbaric-looking black and white tiger with its teeth bared. The tiger tattoo is inked on Bieber's left bicep. Tigers usually are representative of savagery, ferocity, strength, might and brutish force. Also, tigers are understood as means of counter blowing and cunning, while some interpret them with passion, high intensity, and sensuality.
15. Selena Gomez Angel Tattoo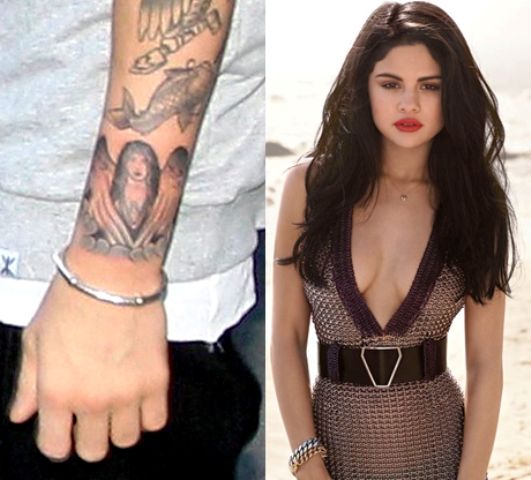 The above Angel tattoo is almost an exact carbon copy of a Selena Gomez photograph from Elle magazine. Justin Bieber however, now regrets his Selena tattoo and has tried to blanket her face in the tattoo up with some light shading.
16. Knight of Sword Tattoo
This knight tattoo is inked inside of Bieber's left arm and looks extremely outstanding. A knight and sword tattoo means that the wearer has got multiple options to consider. It kind of extends unfailing power and force. A fearless person against all odds is what we can decipher out of Knight and Sword tattoo.
17. Castle With Blasting Waves
Justin Bieber has got a huge piece of tattoo starring a large castle with smashing waves to his left arm. His dad had the castle first and later he got the same done. Castle tattoos are symbolic of might, power, strength, safety, and preservation. Also, they draw lineage from the royal, sophisticated, wealthy and rich heritage of  England. However, waves depict a purifying phenomenon as a whole, since water is taken as a cleansing agent.
18. Bleeding Globe Tattoo
A peculiar tattoo of a bleeding globe being crucified on the cross, wearing a crown of thorns is seen on Bieber's arm. The tattoo is inked in a position that is near to the "Selena Gomez" Angel tattoo on his left wrist, and just beneath the knight and sword tattoo. He was simply eight years old when he was sitting in a class and was drawing the cross with the world in it. This tattoo tells us that cross means the world to him, Jesus means the world to him.
19. Eyeball of his Mother
Justin Bieber has got the eye tattoo on his arm, which actually resembles his mother's eyeball. He got this ink as a testimony of love and honor to his mother, Pattie Mallette. Eye basically symbolizes intuitive power and the ability of a person. Also, it is a vision to foresee the future events that are going to take place provided they are beyond obvious. An eye can be viewed as a symbol for safeguarding oneself against evil influences. Still, it can mean differently to a different set of people.
20. Bible Verse Tattoo
The tattoo on Justin Bieber's right shoulder reads, "Your word is a lamp for my feet, a light on my path," which is from Psalm 119:105. This is one more tattoo dedicated to Bieber's strong affinity towards Christian belief.
21. Eagle Tattoo
On Bieber's left arm and shoulder, he has the ink of a relentless-looking black and white eagle in flight with its hooks out. It is enveloped by few clouds as well.  An eagle represents audacity, endurance, courage, and focus. Also, an eagle is symbolic of high dreams and aspirations. However, in some cultures, an eagle is taken as a beauty symbol, piousness, and powerful brute force.
22. Better at 70
"I look back at a lot of things in my life, mistakes, insecurities, and although I have felt I've wasted a lot of time it also makes me want to be better faster! For me personally, I want to work every day to be Better at 70", said by Justin Bieber himself.
23. Star on Left Arm
A black and white star tattoo lays inked in between Bieber's wing and rose tattoos. A star tattoo is usually used for guidance, exploration, and protection. Like people used the north star in ancient times for the purpose of navigation and safety.
24. Jester Tattoo on Arm
Justin Bieber has got inked a new jester tattoo on his right arm. It is located just beneath his Japanese Kanji tattoo. Well, not every ink is symbolic ideally. Jesters are worn by people who may have a full of life approach towards things, maybe who do not stress over petty obstacles. Also, it can show typical traits of the bearer.
25. Compass Tattoo
Justin Bieber bragged off yet another new tattoo – this time he has got a huge black and white compass inked on the outside of his left bicep, as part of his near-complete sleeve. The compass tattoo has been a common choice among so many cultures for many centuries. This is an oceanic symbol. It has been a common word of mouth among early sailors and there was a believed notion that getting a compass tattoo inked would guard you on rash waves of water and make sure that you would reach back home safely.
26. Love Tattoo
Justin Bieber possessed a small tattoo located on the inside of his right forearm which reads "LOVE." It is inked in a decent jet black Gothic calligraphy, and the letters are written vertically instead of horizontal alignment. We are apprehensive that Justin's "LOVE" tattoo draw its patronage from Selena Gomez former flame ink. Love tattoo symbolizes various feelings like confidence, credence, passion, faith, belief, hope, friendship, devotion, aspirations, and ambition.
27. Treble Clef Tattoo
Justin's soprano clef tattoo features a tiny and classy treble clef inked in black behind his left ear. This was apparently done by celebrity tattoo artist Keith "Bang Bang" McCurdy. Treble clef tattoo is usually inked by music freaks, depicting their relationship and fondness for music.
28. Chest Cross
This is a cross tattoo inked on Bieber's chest located at just the middle of it. Once again, this ink justifies Justin Bieber's spiritual faith in Christianity.
29. Forgive Tattoo

Bieber's right hip has been tattooed with the word "Forgive." This ink announces him being a God fearing guy.
30. Banksy's Balloon Girl
Justin Bieber went under the needle for a tattoo paying gratitude to the ever renowned urban street artist Banksy.
31. Diamond Tattoo
Justin Bieber has got a diamond tattoo inked on the outside of his right wrist, just below his hand. It is symbolic because the same is featured in the album artwork for the pop star's recent "Confident" collaboration with Chance The Rapper.
32. Face tattoo
Justin has tiny black cross inked just below his left eye.
33. Graffiti Star
Justin Bieber has a graffiti tattoo on his arm. Graffiti is a very creative art and gives a classy look too.
34. Korean Mask Tattoo
This is Bieber's Korean mask tattoo.
35. Patience Tattoo
Justin Bieber's "Patience" tattoo is located on the right side of his neck, just below his ear. It is inked vertically down his neck in a black Gothic-style calligraphy.
36. Leaf
The leaf tattoo is inked on the inside of his right arm, near his elbow. Leaves symbolize Life, Death, and Circle of Life. It is believed that a single leaf is an ancient symbol which represents happiness. However, it can represent so much more than happiness and prosperity. Also, the leaf can show a variety of aspects of one's life as it is a symbol of life.
37. The "LL" Tattoo
"LL" here means "low lift," like when your head is low, lift it up. He got this ink done back in May 2015.
 38. The "G" Tattoo
A capital letter "G" on his upper right arm has been inked in love and tribute of a little girl named Georgia. Georgia, is the daughter of Seattle Megachurch Pastor Chad Veach and his wife Julia, was born with a rare brain disorder called Lissencephaly, and the story of her brave fight has inspired some celebrities, like Justin, to get "G" tattoos in her honor. This shows, how compassionate Justin is!
39. 'Purpose' Tattoo
Justin has got a tattoo of the word "Purpose" on his stomach, claiming it to be his fourth studio album.
40. Wings on Back of Neck
Justin has got a pair of angel wings tattooed on the back of his neck. Angel wings represent inspiration to fly high with a swift speed.
41. Son of God
This 2006 tattoo of  Justin reads, "Son Of God." It is located above the "Purpose" tattoo. This again has a religious connotation with Christianity.
42. Lion Tattoo
One more animal lay tattooed on his chest, which is a lion. Lions are ferocious animals, brutish and strong. So it represents fearlessness and determination.
43. Rose Tattoo
Tattoo: 'Rose' tattoo on the right side of his neck.
Meaning: On September 08, 2020, Justin got this tattoo inked by the tattoo artist, Dr Woo. Rose tattoo symbolizes emotions, feelings, love, passion, care, mature love, and protection from an envious lover.
44. Peach Tattoo
Tattoo: 'Peach' tattoo on the left side of her neck.
Meaning: On March 28, 2021, Justin got the tattoo of a 'peach' for his song 'peaches' released in March 2021. He got this tattoo inked by the tattoo artist, Dr. Woo.
45. Bear Tattoo
Tattoo: 'Bear' tattoo on his right pec.
Meaning: Justin got this tattoo inked in 2017 which symbolizes protection, anger, strength, spirituality, courage, and trust.
46. 'Eagle' tattoo on his upper abdominal area
47. 'forever' Tattoo
Tattoo: 'forever' tattoo on the left side of her neck.
Meaning: Justin got this tattoo inked for his song 'forever' which was released on February 14, 2020. He got this tattoo inked by the tattoo artist, Dr. Woo, on July 22, 2020.
48. Microphone Tattoo
Tattoo: 'Microphone' tattoo on his right torso.
Meaning: Microphone tattoo symbolizes the wearer's love and passion for music and singing.
49. Tattoo on his right arm
50. 'TRUST' tattoo on his right arm
51. 'Flying Bird' Tattoo
Tattoo: 'Flying Bird' tattoo on the left side of his neck.
Meaning: Flying bird tattoo symbolizes freedom, travel, new beginnings, rebirth, and change.
52. 'Angel holding a Clock' Tattoo
Tattoo: 'Angel holding a Clock' tattoo on his right arm.
Meaning: An 'angel holding a clock' tattoo symbolizes the spiritual connection and divine blessings of the angels.
53. Tattoo on his right forearm
54. Tattoo on his left elbow
55. Laurel Tattoo
Tattoo: 'Laurel' tattoo around his neck.
Meaning: Laurel tattoo symbolizes victory, success, prosperity, and marital success.
56. 'Filigree' tattoo on his abdominal area
57. Tattoo on his right forearm
58. Tattoo on his right forearm
59. Tattoo on his right arm
60. 'Music System' Tattoo
Tattoo: 'Music System' tattoo on his right forearm.
Meaning: Music system tattoo symbolizes the wearer's love for music and passion.