Steve-O is an interestingly bonafide crazy fellow. This Canadian-English- American origin celebrity is known for a whole lot of reasons. He is a stunt performer, television actor, comedian and animal right activist. His crazy and wacky style is quite unique and is truly shown in his tattoos. He calls all his tattoos idiotic and dumb and also has a special exhibiting section on his official website showcasing all his tattoos.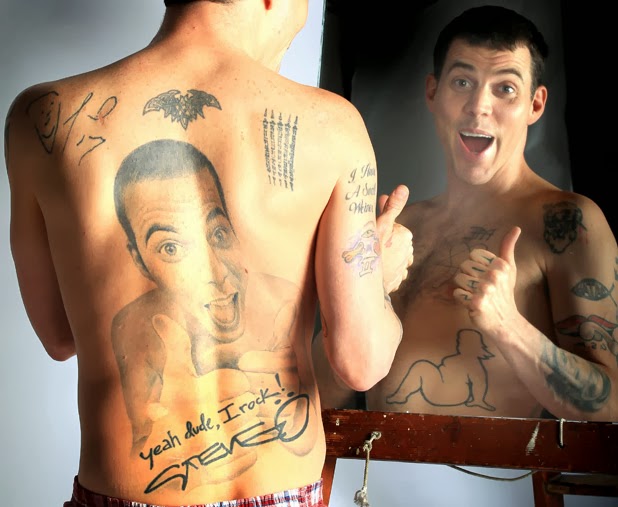 Known to be 'King of bad tattoo,' let's check out all the insanely worst, hilarious tattoos of Steve-O.
1. Own Portrait Tattoo

Who has larger than life self-portrait as a tattoo? Well, this guy does! His entire back has a realistic tattoo of his face with 2 thumbs up. It has Steve's signature at the bottom with the wording "Yeah dude I rock."
2. Knuckle Tattoo of Sh*t and F**k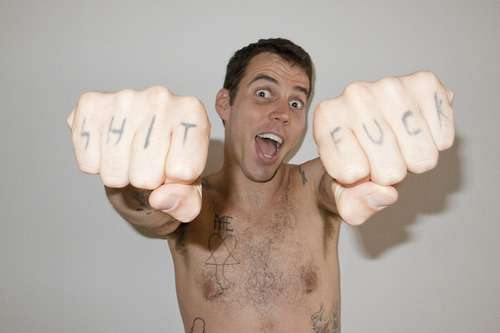 This celebrity got "Shit" and "Fuck" inked on his knuckles because obviously something relevant like love, faith would be too simple to understand.
3. XYZ Tattoo


On the right bicep of this star is an XYZ tattoo which was supposedly a clothing company which went out of the business. It seems like this tattoo was responsible for that.
4. Man and Ostrich Tattoo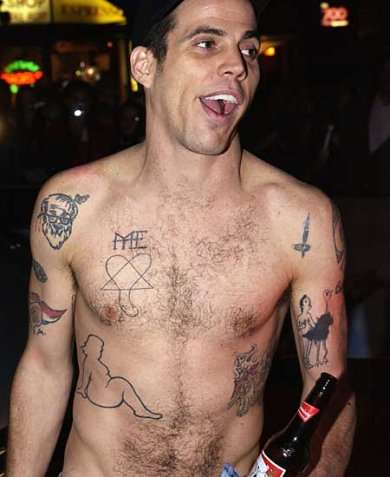 The left arm of Steve has quite a sensational tattoo with a man and an ostrich which seems to be like in a position of a man banging the bird which again seems quite idiotic.
5. Prison Love Tattoo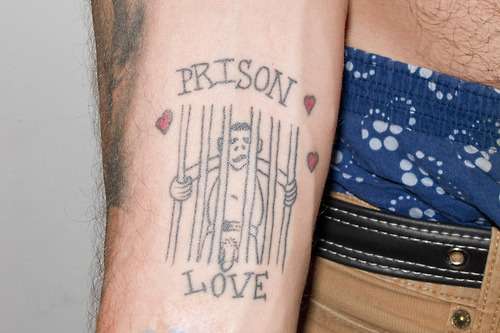 If only he should be behind bars of such tattoos. Steve has inked a picture of a naked man behind bars with the words "Prison Love" on his arm.
6. Flower Tattoo



A flower tattoo is inked on Steve left arm with the wordings "Live to Ride, Ride to Live."
7. Fat Lady Tattoo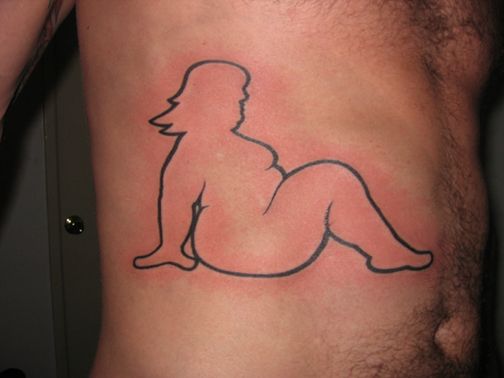 Steve abdomen has a hilarious tattoo engraved with an outline of a fat woman in sitting position. Wonder what signifies that?
8. Tribal Tattoo 
Steve has also got few tribal tattoos on his left shoulder.
9. Weird Penis Tattoo



In yet another inexplicable ink on Steve' body is a weird penis tattoo which seems like a cartoon penis with colored wings on his right bicep. The text "USA" is written below the tattoo. Patriotic much!!
10. ME Tattoo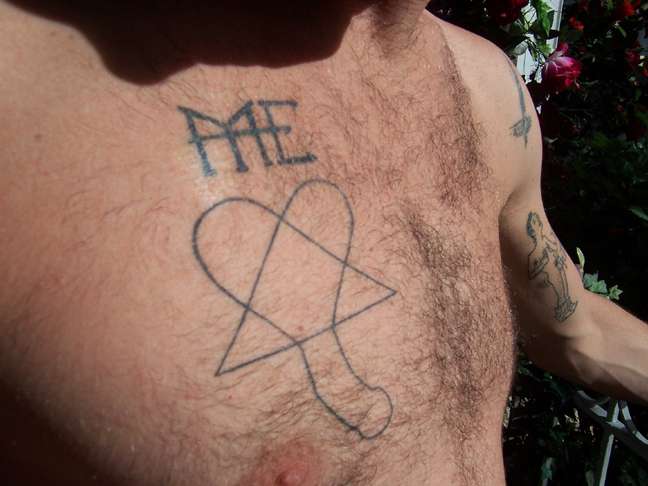 Being self-obsessed about oneself, Steve got the words "ME" inked on the left side of the chest.
11. Billy Bob Tattoo 
Steve has a weird obsession to copy many of Angelina Jolie tattoos and therefore got Billy Bob tattoo on his left shoulder. Billy Bob was Jolie's ex-husband whose tattoo was removed by the actress later on.
12. Satan Tattoo
On the right bicep of Steve, a baffling Satan tattoo is engraved in the form of a Christian fish. Well then again, it's Steve-O.
13. Jackass Movie Tattoo 
Steve-O got fame from a movie Jackass, and as a tribute to the film, he got a smiley face Jackass movie tattoo which was made when Steve was in a moving truck. Ouch, that might have hurt and looks horrible.
14. Red Pentagram Tattoo
Steve got a Red Pentagram tattoo on his left wrist which is upside down.
15. Sonny's Bar and Grill Tattoo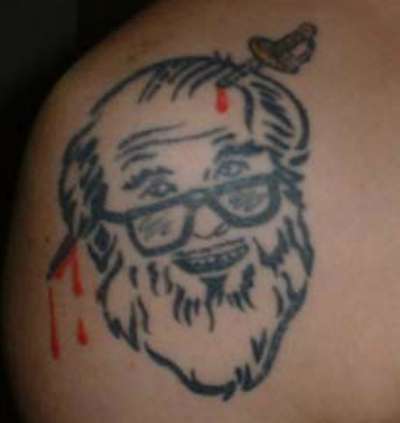 The logo of Sonny's Bar and Grill, New Mexico is inked on Steve's right shoulder with a sword added in his head.
16. Khmer Script Tattoo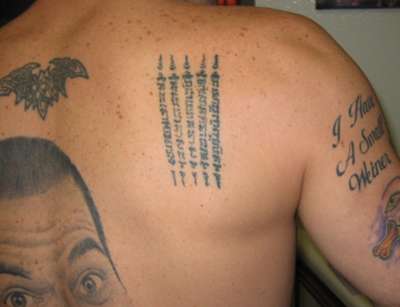 In order to copy Angelina Jolie's Tattoo, Steve-O got a similar kind of Khmer Script tattoo on his upper right back. Jolie got this inked for his son Maddox.
17. Unfinished Lightning Bolt Tattoo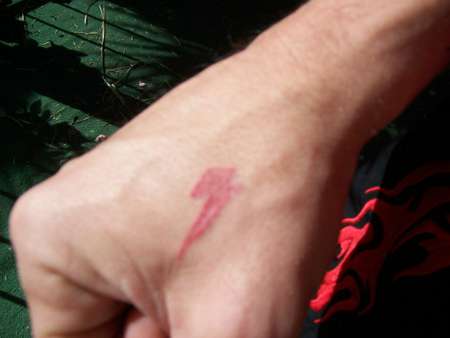 In a series of the weird tattoos, Steve also got an unfinished tattoo of a lightning bolt on his right hand.
18. Baby Self Portrait 
On his birthday, Steve got a tattoo of himself as a baby from famous tattoo artist, Kat Von D. He calls it a portrait of a very good looking 2-years-old baby.
19. "Your Name" Tattoo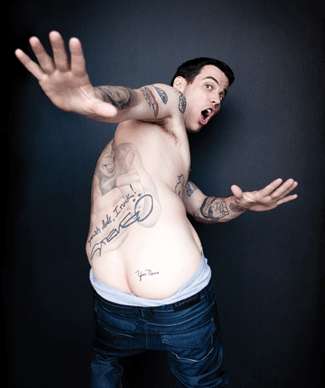 Steve got the words "Your Name" inked on his buttock which we guess would have some mad relevance for him or is straight down hysterical.
20. Marijuana Tattoo 
The star got a Marijuana Leaf tattoo with word "C" on his right wrist from France. He says that this particular tattoo helps him get the weed in foreign countries. Hope nobody arrests him for this tattoo!
21. Two Hand Tattoo

 
As a Christmas gift to Steve, his friend 50 Cent made him a "Two Hand Tattoo" with Blue and Red colors signifying Bloods and Crips gang color.
22. I Love to Bone Tattoo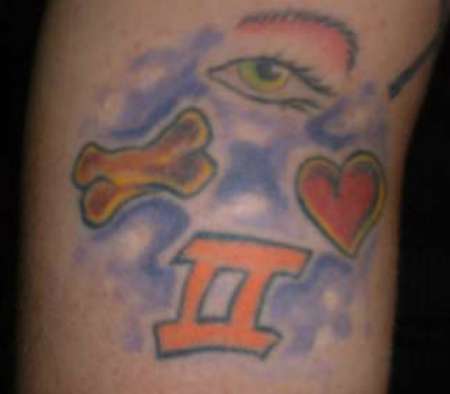 Steve has 4 different images of an eye, a heart, a Roman "II" and a bone which make up as "I Love to Bone" on his arm in various colors.
23. I have a Small Weiner Tattoo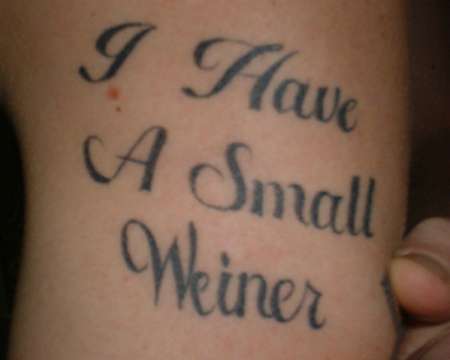 The list of weird tattoos ends with one of the bizarre and hilarious tattoos of this celebrity which has a wording "I have a small weiner" on his upper arm, which represents his confession for his secret. Ironically, "Wiener" is spelled wrongfully in his tattoo.