Tulisa Contostavlos, the singer and songwriter mostly known for judging the hit reality show X-Factor. Along with being a great singer who won many awards, she is also an actress and a hit television personality. But what mostly caught our eyes are her tattoos and inks making it to quite an attractive personality. While some of her tattoos are thought-provoking and sweet, some are tagged as 'raunchy.' But nevertheless, Tulisa carries her inks and her personality pretty well making it quite a head turner for many.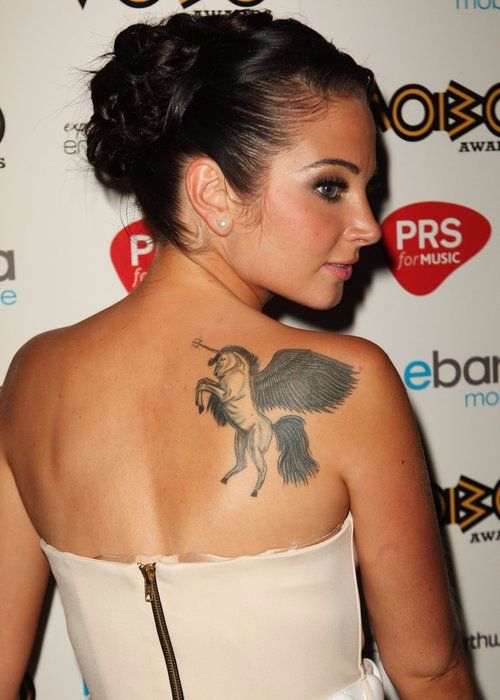 Here are the 5 tattoos inked on this celebrity:
1. Vintage Microphone Tattoo
Tulisa has a beautiful vintage style tattoo on her left forearm of a microphone. This tattoo also has roses and music notes surrounded the microphone. It has words "RIP Uncle B N-Dubz for Life" inked in honor of Tulisa's uncle Byron who was instrumental in her musical career and success.
2. Lyrical Tattoo



The singer has her song lyrics inked on her lower back from the album "The Female Boss." The tattoo says:
She is strong when she is weak
She is brave when she is scared
She is humble when she is victorious.
3. 'Lucky You' Tattoo
Tulisa has interestingly weird tattoo on her lower stomach with four-leaf cover along with words "Lucky you" inked. The tattoo seems like a teasing message for anyone who can see that racy tattoo of the singer.
4. Unicorn Tattoo 

The singer has a large unicorn tattoo with wings on her right shoulder blade. The old tattoo of Tulisa of ying-yang symbol and her name is Greek is covered by this new majestic tattoo but is faintly visible.
5. "Female Boss" Tattoo

"Female Boss" has been inked on Tulisa on her right forearm along with female gender symbol. This tattoo is a representation of singer's nickname and is believed to be her 'trademark'. The singer is very fond of this tattoo and loves to flaunt it off.