Born in the New York City, U.S., Maria Brink is a singer and a songwriter. She was the lead vocalist in "In This Moment band." Apart from music, she is actively associated with PETA campaign. She has almost covered her whole body with tattoos. She is a firm believer in turning pain into power, as her tattoos speak a lot more than just body art. Take a look at her tattoos to find out what do they mean to her.
1. Writing On Knuckles
Maria Brink has her knuckles inked in blue and black writing which states, "BELIEVE." Stars fill up the empty space on her knuckles.
2. Cartoon Bear On Forearm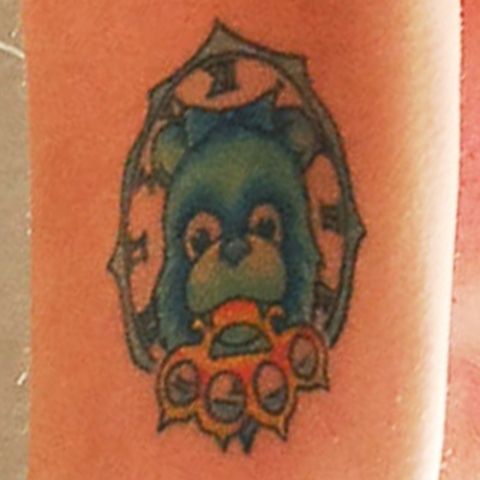 Maria has a cute little cartoon bear inked on the upper back side of her left forearm. The bear is holding a golden brass colored knuckle in its mouth. A clock with Roman numerals surrounds the bear's face.
3. Rose On Wrist
The American singer, Maria got her left wrist inked with a blue colored rose. As blue roses represent impossible, fantasy or unattainable so there is a possibility that Maria has a big goal to achieve in her life. And that this tattoo is a constant reminder to her.
4. Complete Right Arm Black Colored Tattoo
The bold and beautiful singer got her complete right arm tattooed with black colored ink. It even consists of jewels and mandala art on her sleeve.
5. Heart On Side Neck
There exists a blue colored heart-shaped tattoo on the side of her left neck. Broken pieces of red colored heart are stitched back together using a band-aid thus reforming the complete heart.
6. Latin Writing On Nape
There is a writing inked on the back of her neck. Below the writing, there exists a circle enclosing a cross tattooed therein.
7. "We Shall" Inked on Left Wrist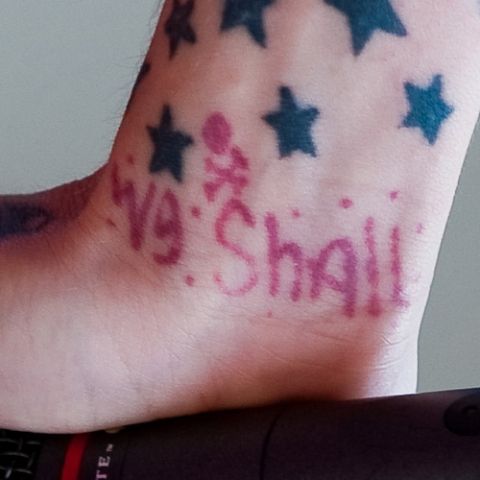 Maria Brink has got her left wrist inscribed with a writing which states, "We Shall." Above this piece of writing, there is a red colored crossbones and few black colored stars tattooed on her wrist.
8. "Overcome" Tattooed on Right Wrist
Maria's right wrist tattoo completes her left wrist tattoo. It states, "Overcome." On joining both the wrists together, it completes the sentence thus forming, "We Shall Overcome." There lies a small crossbones in red color above the letter O.
9. Fairies And Butterflies Tattooed on Sleeve 
Maria Brink has her right sleeve inked with the design of butterflies and fairies. Various colors including blue, orange, yellow and black blends in completely to fill up the empty space.
10. Nature Inspired Tattoo on Sleeve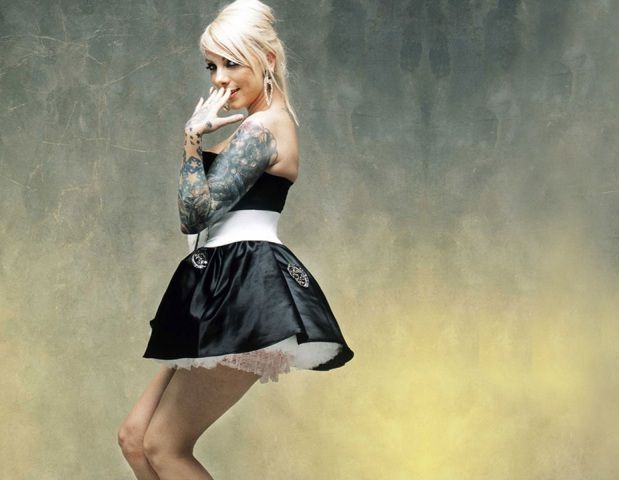 The gorgeous lady has her left sleeve tattooed with nature-inspired creatures like butterflies, winged fairies, flowers, and stars of varying sizes.
11. Mandalas on Thighs
A beautiful design depicting mandala art has been inked by Maria Brink on both of her thighs. Mandal is a form of an ancient art. It is a spiritual symbol for Hinduism and Buddhism. This art on her thighs took around 21 hours to complete and the result was worth the time she spent to get it done.
12. Diamond Shaped Heart on Neck
The singer has inscribed a dark blue diamond shaped heart on the left side of her neck. The diamond shaped heart was earlier just a simple heart which when redesigned turned up as a splendid art.
13. Sad Little Girl on Right Hand
There exists a little sad girl on the upper side of her right hand. The portrait which she has inscribed is an artwork by Mark Ryden. A teardrop of blood is rolling down from the girl's eye. A similar tattoo is present on the other hand as well.
14. Sad Li'l Boy On Left Hand
Maria has got inked the back side of her left hand with a portrait of a young boy who is crying and a blood drop coming out from the eye.
15. Stars And Butterflies on Forearm
The right forearm of Maria is covered with outlines of butterflies and stars which are in pink and blue color. A transition from daylight to the night takes place as the stars turn black as we move towards the wrist region.
16. Triple Moon on Left Arm
Maria has her left upper arm inked with one complete moon and 2 crescent moons. Moon is a symbol of feminity and is even considered as Goddess. It represents Maiden, Mother, and Crone as each of these symbolizes the three phases of womanhood.  "Maiden" is symbolic of a new beginning, the "Mother" represents fertility and power and the "Crone" illustrates wisdom and death.