Sophie Belinda Jonas, better known as Sophie Turner is an English actress. She is best known for her role as Sansa Stark in the hit series, Game of Thrones. Sophie is known to be a fan of getting inks on her body. Let's explore her Tattoos and their Meanings.
1. '07.08.09 Date' Tattoo
Tattoo: Sophie has the date, '07.08.09' inked on the inside of her right elbow.
Meaning: Sophie and her best friend Maisie Williams got this matching tattoo as they both are co-stars and play the Stark sisters in Game of Thrones. This particular date 07/08/09 represents the day when they both got their roles in the Television series, Game of Thrones.
Sophie said in a red carpet interview, "We've always kind of said we wanted matching tattoos. We got them together just the other day. With Thrones we were like if we make it all the way through, hopefully, we could get a matching wolf. But we don't know if we're going to make it, so Maisie and I were like 'Let's get this before anyone kills us'.
2. 'X-Men' Tattoo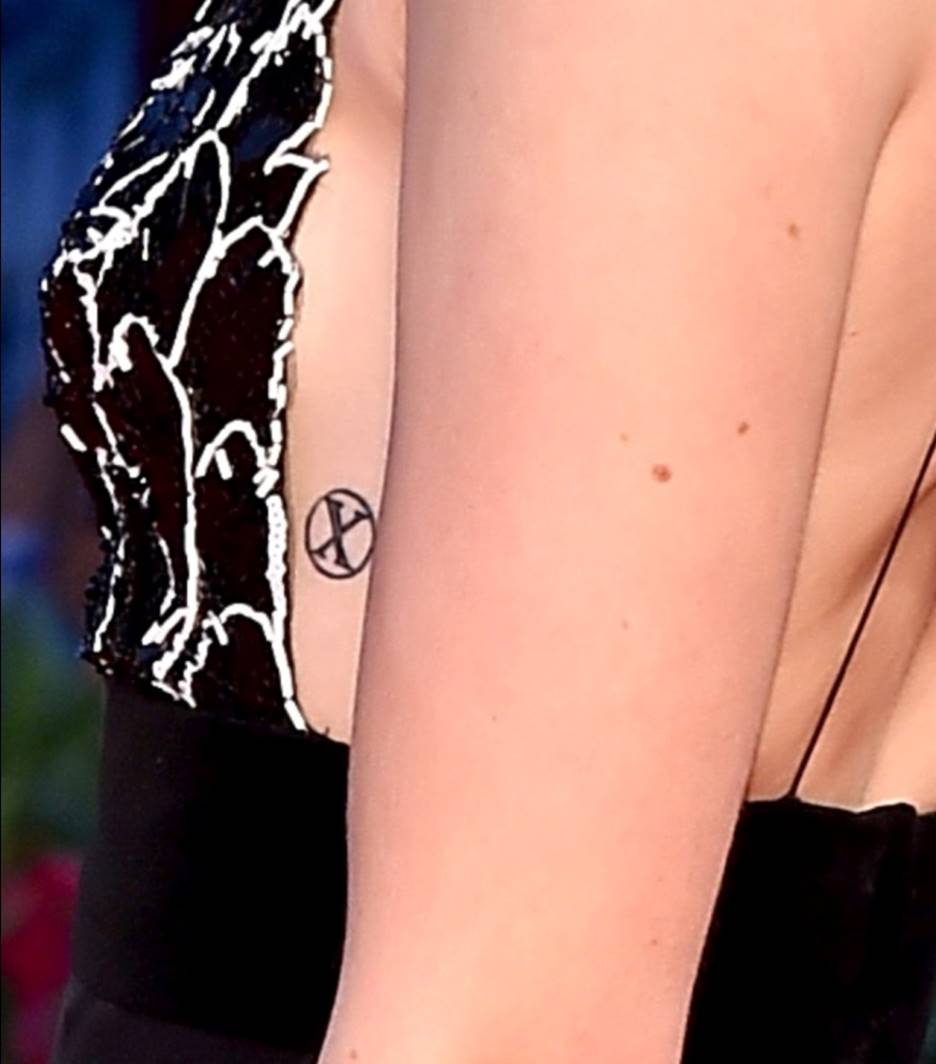 Tattoo: The actress has the X-Men logo inked on the ribcage on the left side of her body.
Meaning: Turner got this tattoo to show appreciation for her first big movie role as Jean Grey in the X-Men Franchise. Her co-star in the movie, Alexandra Shipp who plays the role of Storm also has a matching tattoo.
3. 'The Tally Marks' Tattoo
Tattoo: Sophie has a tattoo of five tally marks on her ring finger of the right hand.
Meaning: The five tally marks represent all the members of her family. Her parents, her two brothers, and herself. Sophie got the tattoo on her 20th birthday as she was missing her family while shooting in Canada.
She quoted," It's like a tally of 5 for my family of 5. I got it when I was really missing them in Canada. It was on my birthday and it was me and one person. We were the only people there. And I was like, "I'm on my birthday and I woke up and my parents aren't here and my family isn't here" so I got this. I'm very tight with them. It's faded in certain parts so I've got to get it topped off. It rubs away easier so I try and keep my fingers like this (spread out)."
4. 'Portrait' Tattoo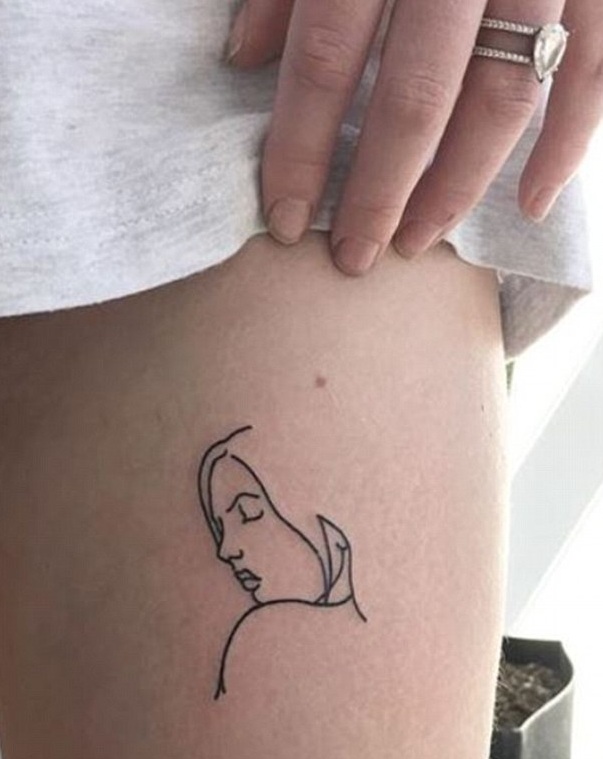 Tattoo: Sophie got a portrait of a woman tattooed on her left thigh which was tattooed by artist Curt Montgomery in March 2018.
5. 'J' Tattoo
Tattoo: The actress has the letter, "J" inked on the inside of her left wrist.
Meaning: The J stands for Joe as in Joe Jonas, who is her boyfriend. Whereas, Joe got a tattoo of Sophie's initials that says,'S'.
6. 'The Rabbit' Tattoo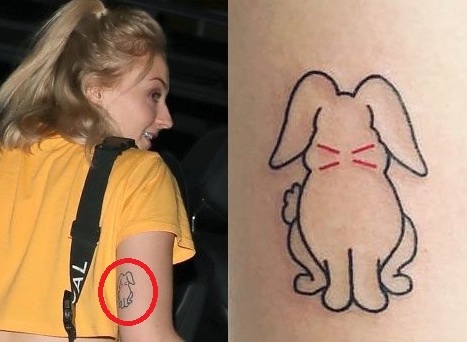 Tattoo: Sophie has a tattoo that includes the outline of a rabbit on her right upper arm.
Meaning: The Rabbit tattoo was done by Curt Montgomery and represents the first time Sophie and Joe ( her boyfriend) met at a Halloween party where Sophie was dressed as a Rabbit.
7. 'The 3 Triangles' Tattoo
Tattoo: Turner has a tattoo of three intertwined triangles made by a single line on her upper left arm. The triangle is enclosed by three Greek symbols,"  lambda (λ) on top, epsilon (έ) on the right, and phi (φ) on the left.
Meaning: Sophie and her brother, 'Will' have matching tattoos. When asked in an interview for Wella Professionals, she gestured to this tattoo saying that this is her favorite tattoo.
She quoted, "It's three triangles, and it's Plato's theory that the soul is comprised into three parts: reason, spirit, and appetite. The reason is my eldest brother James, the spirit is my other brother Will, and I'm appetite. It means a lot to us, we've all got them. They're like my best friends in the world."
8. 'Northern Star' Tattoo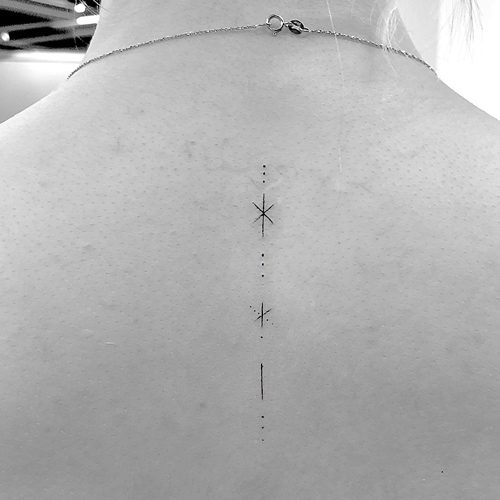 Tattoo: The actress has the symbol of the northern star tattoo on her spine which shines with humble brightness.
9. 'Initials' Tattoo
Tattoo: Sophie has the initials of her brother inked on her right toe.
Meaning: Sophie loves her family so much and has few tattoos on her body which represents her love for them. This ink is one of them which shows the initials of the name of her brother.
She told the story in an interview, "To be honest I was having like a bit of a party in Australia at this house and we were all watching the football.  And we all decided to just get tattoos while we were watching the football and drinking beer.  It was so badass….And I got my brother's initials tattooed on my big toes."
10. 'The Wolf and The Pack' Tattoo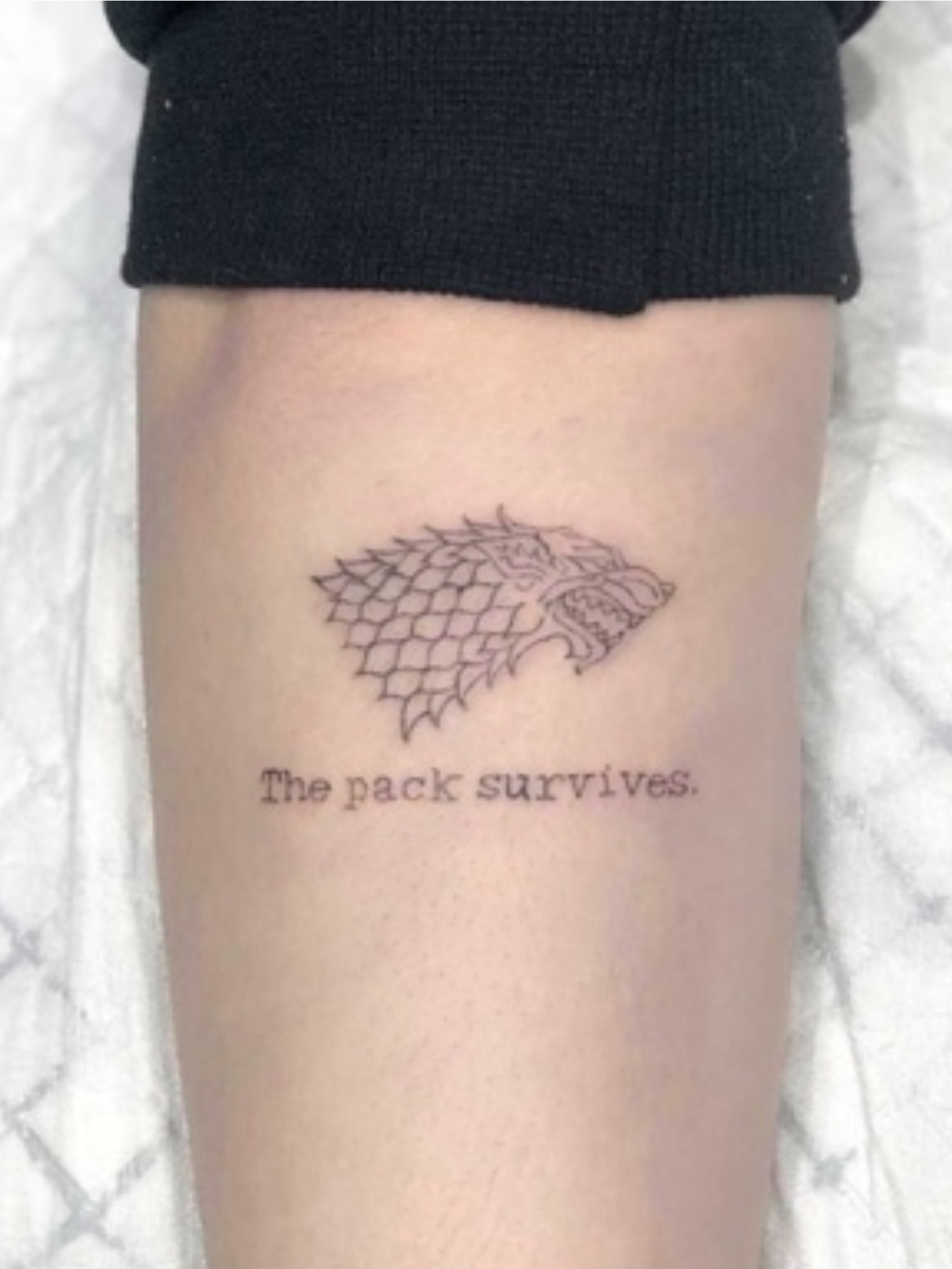 Tattoo: Turner has the tattoo of the Direwolf emblem of the House of Stark from Game of Thrones on her left arm below the elbow with the words written, 'The pack survives.
Meaning: Sophie got this tattoo to honor her role of Sansa Stark in the popular series, Game of Thrones.
She told James Corden, "Actually while I was getting it done people advised me not to because it looked like I was giving everything away. But I wasn't, it's just a quote from last season. But everyone figures that the pack really does survive.  It's just a moral that I like to live by."
11. 'G' Tattoo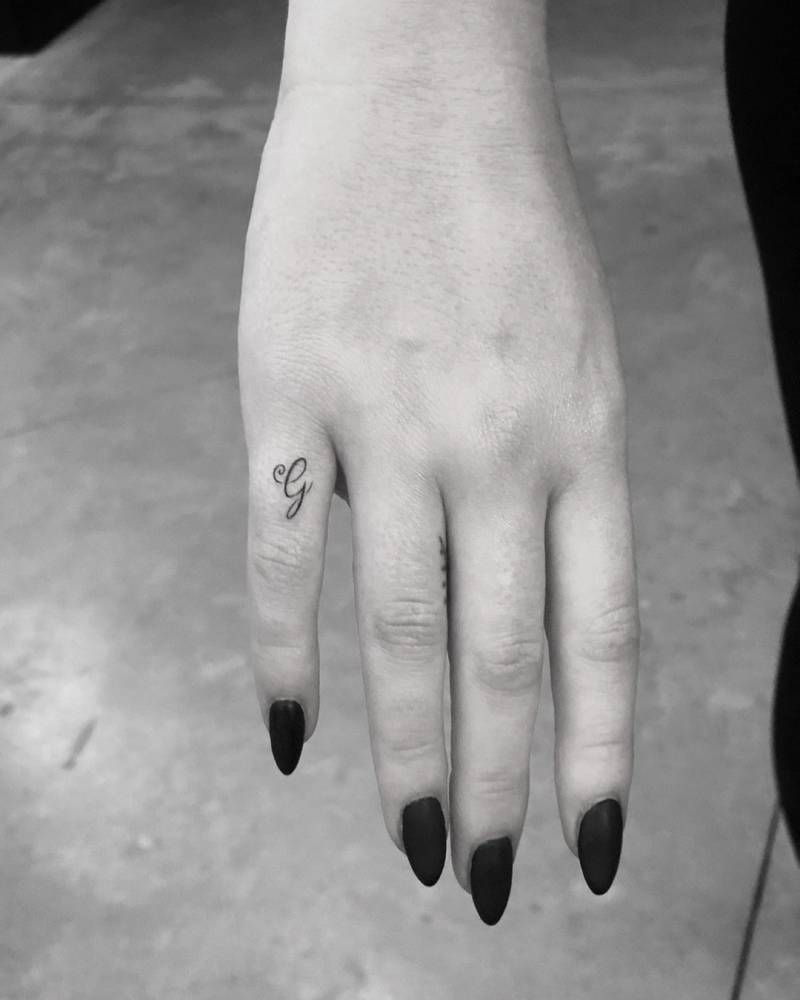 Tattoo: The letter, "G" is inked on the actress's right pinkie finger.
Meaning: Sophie revealed the tattoo on Instagram with the caption, "For my granddad. My hero." The tattoo represents the endless love she has for her grandfather.
12. 'Fire Flame' Tattoo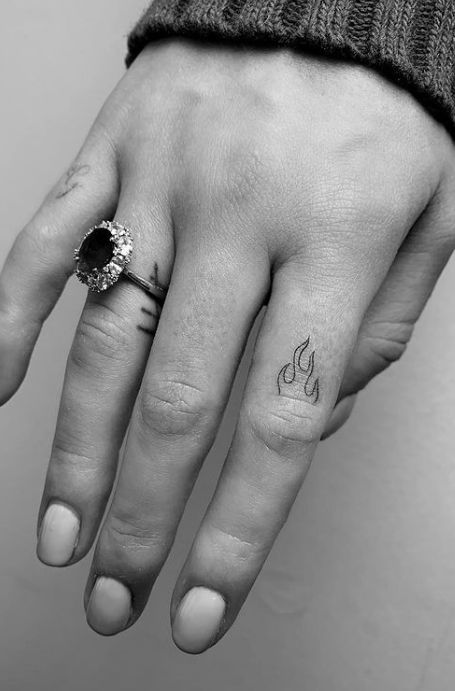 Tattoo: She has an outline of fire flames on her finger.
13. '& beyond' Tattoo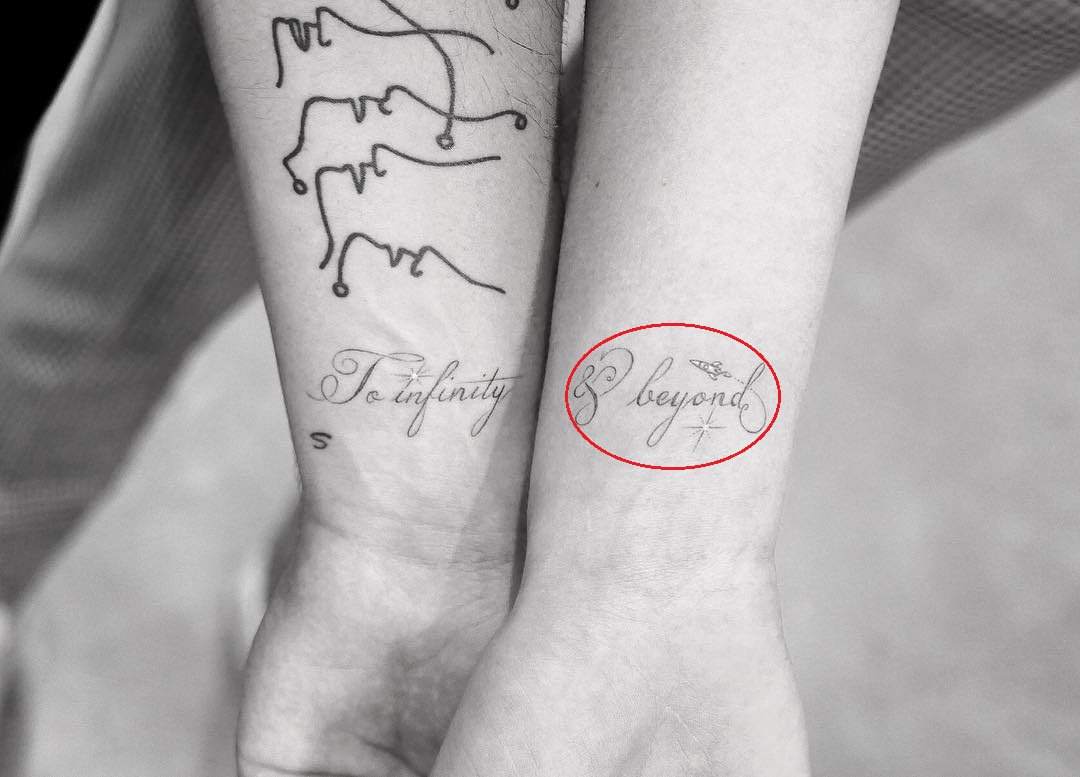 Tattoo: The right hand's wrist of Sophie Turner contains ink of '& beyond' tattoed on it.
Meaning: Couple tattoos are how celebrities say "I love you," and, in the case of Jonas and Turner, that comes in the form of a Disney reference. Back in June, the two got the famous quote from Toy Story "To infinity & beyond" inked on their wrists where Jonas got "To infinity" and Turner got "beyond" inked.
14. 'W' Tattoo
Tattoo: 'W' tattoo near her left wrist.
Meaning: In November 2020, Sophie uploaded a video on her Instagram handle, revealing her new tattoo of the letter 'W' which stands for her daughter's name, Willa, who was born in July 2020. This tattoo is inked exactly near her previous 'J' tattoo which she got inked for her husband, Joe Jonas.
15. Waldo Tattoo on Arm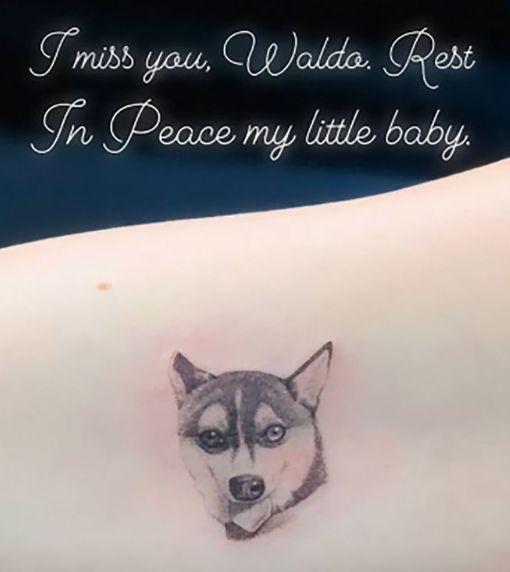 Both Joe Jonas and Sophie Turner got themselves an ink of their dog, Waldo, after he died in an accident in 2019.
16. Pepper Shaker on Ankle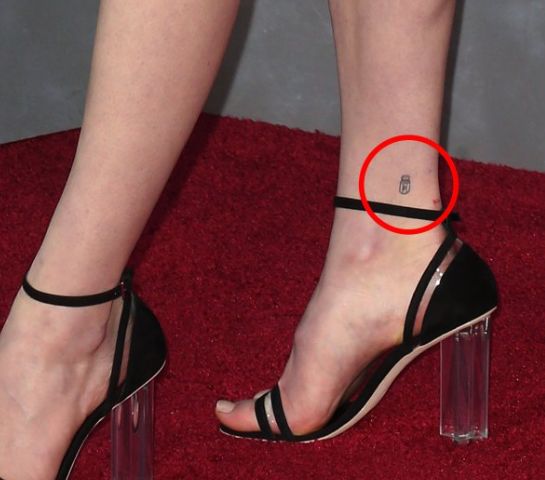 Sophie has a small pepper shaker tattoo on her ankle. We are not sure of the meaning of the design as she hasn't discussed it publically.
17. Two Stick Figures Holding Hands on the Left Wrist
The tattoo is done minimalistically with black ink by the artist, Dragon.
18. Unknown Tattoo Behind Ear
Sophie has a tattoo behind her ear which is done in black ink but the meaning is pretty unclear. In a live stream with Joe Jonas, she said, "It's basically the path to enlightenment."