Travis Barker, a household name for music worshippers, is the drummer of the band, Blink-182. Also famous for his tattoos, he gives the reason for getting them, so he could never go and get a normal job. He could never become just another average person. The tattoos on his body would of course never allow him to go get a normal job. No one would hire someone who has ink all over their body. So, IT WAS EITHER MUSIC OR NOTHING. He had no plan B! Pretty daring, huh? Let's learn about his tattoos here.
1. First Tattoo
Barker's first tattoo, unfortunately, "burned off" during a plane crash. It was his nickname, "Bones" and had a symbol of a hard-core band that he really liked right above it.
2. Daughter's Name
Barker has a Chevy Symbol on the upper part of his right hand with a rose and his daughter's name, Alabama.
3. Razor blade
Travis wrote the name of his first girlfriend with a razor blade on his leg. Not exactly a "tattoo" but Travis said, "I was 10 or 11, her name was Toni and I did it with a razor blade. I think it's been covered with other tattoos now though. You must have done that, right?"
4. Kid's Names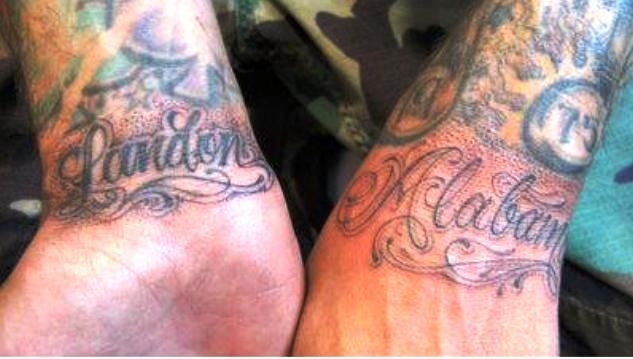 He has his kids' names on his both wrists, Alabama, his daughter and Landon, his son.
5. Famous Race Flag
"The race flag on my neck is for the year of my favorite Cadillac. I also have Japanese flowers on the back of my neck. I don't even know what they look like because I can't see back there. But I have a heart that says 'Mom' with the flowers."
6. Cadillac
"I got a Cadillac emblem when I was 21 because I collect Cadillacs. I don't drive any other cars."
7. Can I Say
"I have a Dag Nasty Symbol. That's a band I grew up listening to. And I have 'Can I Say' because it's the name of their first album."
8. Religious Bent
"I have a sacred heart when I was 19 because I was brought up Catholic. I also have a microphone, dice, and Jesus. I figured if I tattooed Jesus on me, good things would happen, or maybe he'd have my back or something."
9. Boom-Box
"The boom box on my stomach is because I grew up loving to break-dance and I collected ghetto blasters. I had like 20 of them. Everyone else would go buy candy and I would buy boom boxes and carry them around and break-dance on the street corner on a piece of cardboard. So I got my favorite boom box when I was 21."
10. Familia, Bird, and Flower
"I got 'familia' tattooed on my arm when I was 20, which is obviously for my family. I have a bird that I just got for the hell of it. It was a good looking bird. When I was in Denver and I was bored and wanted to get tattooed to finish my arm up. So I just went into this shop and this guy buys me that (flower on his arms). He specialized in Tulips. I'm not a flower guy, but it's an honor to get a tattoo from him because he won't even tattoo you if he doesn't like you."
11. Self-Made
"And I have 'self-made' on my knuckles from 2000, because I've worked for everything I have. I don't really have anyone to thanks for my hand through it all, and making me what I am."
12. Hope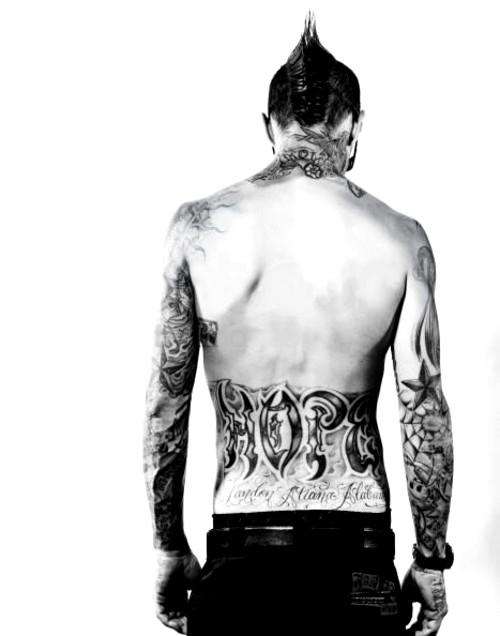 He has the word 'hope' written on his back. This tattoo draws inspiration from Descendant's song and is also a tribute to the positive things that happened to Travis after his mother's death.
13. Stuff That Looks, Rad
"My right arm is like my good luck arm. It has everything– a deck of cards, drumsticks, a martini glass, a dollar sign, my lucky number 7, my initials, and a rabbit's foot. I have a devil that was of Black Label skateboards. I was into skateboarding when I was 22, so I got it. It healed really badly, but I refused to get it touched up. I don't want to touch up any of my stuff. It just looks rad."
14. Spider Web
Travis has a spider web tattoo on his right arm.
15. Head Tattoo
His head tattoos were collaborated by famous black & grey tattoo masters, Chuey Quintanar, Franco Vescovi & Mister Cartoon. It took 30-35 hours to finish.
 16. Family Over Everything 
Travis has portraits of his dad, mom and two kids on his back along with this "Family Over Everything" is also written there.
17. Crossroads
As a tribute to his vegan restaurant, Crossroads (and being a vegan himself!), he got a tattoo of two crossroad knives during the first year of the restaurant's opening.
18. Special Space
The drummer has immense love for his children and has special spots reserved for them to tattoo whatever they like. He says, "Yeah they have a spot each on my thigh where they can tattoo whatever they want. Landon put a cross with his name, with an L and A, and Alabama put a heart. There's quite a bit of space left. I'm in trouble for a while."
19. Racing Flag 
He loves cars and racing. This is clearly shown with racing flags tattooed on his neck.
20. Chaos Often Breeds Life….
A quote of Henry Brooks Adams is written on his neck which says, "Chaos Often Breeds Life, When Order Breeds Habit."
21. Pal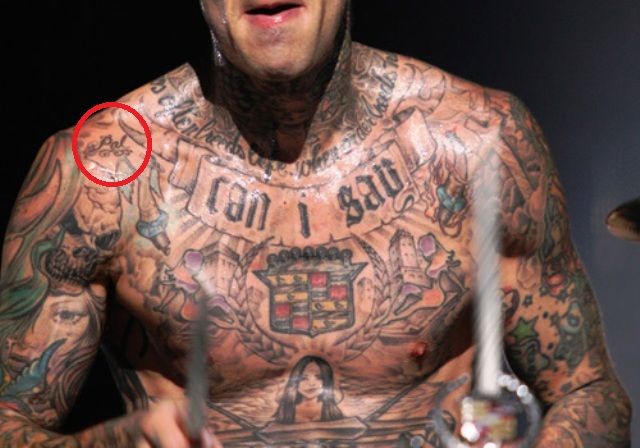 One of the sweetest things is that he and his dad each get 'pal' tattooed. Pal is the name they used for each other since Travis's childhood.
22. Lover
Travis has tattooed the word "Lover" on his stomach below boom boom box.
23. Family First
"Family First" is inked on his head which shows his love for his family again.
24. Live Fast Die Fun
The words "Live Fast Die Fun" are inked with a colourful design on his neck.
25. Blue Bird
One of Travis Barker's several tattoos on his right arm is a blue bird.